This post was created in collaboration with Leesa, who provided a Leesa Mattress for review in October 2016, but all views and opinions expressed are my own. Some links in this post are affiliate links. This means I may receive a small percentage of a sale if you click these links and purchase a product.
The Leesa Mattress
Do you remember the review I did of our amazing Leesa Mattress nearly 2 years ago? Well I'm back to do a follow up post about our experience and thoughts!
Why Leesa?
Leesa offers consumers a hassle free way to buy a mattress, with a simple online purchase – built to order and delivered in 5-7 business days. Buy with the confidence that if you're not sleeping better on a Leesa within 100 nights, they can donate your mattress to a charitable organisation and provide a full refund. By eliminating unnecessary overheads and operating exclusively online, Leesa can offer a premium luxury mattress without the premium price tag. What's not to love?!
The Leesa mattress was designed with one goal in mind: to help people get a better night's sleep.
Does it work for us?
Just like sleeping on a strange bed for the first night you have to get used to a mattress, for Mr M it took a little while longer than I did to adjust but I fell in love pretty much instantly. The Leesa Mattress moulds to your shape but doesn't suck you in and stop you from moving around. I have found my sleep has improved massively and especially during pregnancy, I found I suffered less than most with the pregnancy insomnia and being uncomfortable. When I now get up to feed the baby and return to bed, I drift back to sleep almost instantaneously, making sure I'm getting the maximum number of Zzz's ready for the busy day ahead!
I can't rave about this mattress enough – we even encouraged our brother in law to purchase one for him and his wife;  who say it's the best mattress they've ever slept on. They would totally steal ours when visiting given half the chance as no other mattress quite meets the standard of comfort and level of sleep that the Leesa mattress offers.
There are so many mattress companies popping up online nowadays it's difficult to know which to choose.  From all of my initial research Leesa has consistently been reviewed the best.
What makes Leesa different is the top layer of Avena foam. It's a responsive material that allows airflow through the mattress for a cooler nights sleep (which is a god send in our new build house that reaches 30ºc at night thanks to the heatwave!) and provides enough bounce for freedom of movement. The unique combination of three foam layers (5cm Avena Foam, 5cm Memory Foam and 15cm Support Foam) adapts to the body of each individual, providing optimum support and comfort.
Leesa x Third Living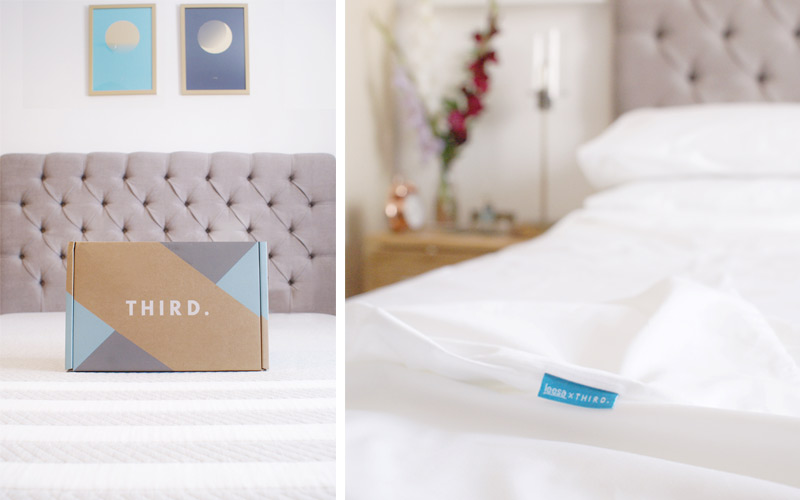 Leesa have recently collaborated with Third Living to produce The Leesa Sheet Set & Duvet Cover. The Leesa Sheet Set has been designed with long-staple sateen weave cotton, featuring a luxe 500-thread count comfort and is perfectly made for a Leesa mattress. We were kindly sent a set by Leesa to review along with my update of The Leesa Mattress. We've struggled with normal fitted sheets on the mattress (predominately due to the depth and sheets with just elasticated corners).
When the box arrived I was amazed at how beautifully packaged everything was. I love it when luxury brands nail the whole experience. This went over and above what I was expecting, each item beautifully packaged in individual sleeves and a little 'sleep kit' which contains a bottle of lavender spray, a spotify playlist of sleep songs and 2 x bedtime teabags.
The main thing for me was the fitted sheet. This needed to smash all other fitted sheets out of the park. I was pleasantly surprised that it was a *fully* elasticated sheet which means that when we move, it moves less! The quality and feel of the sheets is beautiful, these sheets teamed with the mattress make getting into bed a super exciting experience like you'd get in a hotel!

Social Impact
So not only can Leesa provide luxury mattresses without the premium price tag they also have a massive social impact. Any mattresses that are returned within the 100 day period will be donated to a local charity, or if one can't be found – will be recycled. Leesa's One–Ten programme also donates one mattress for every ten sold, and to date they have donated over 26,000 mattresses worldwide (as of June 2018). Leesa's One Earth programme also sees us plant a tree for every mattress sold to help offset their carbon footprint.
Third Living have a similar ethos to Leesa, a portion of each sale also goes to 42nd Street, a charity that supports young people with their mental health and emotional wellbeing.
Does your mattress and duvet set work this hard?
Try Leesa.
£100 off The Leesa Mattress
Code: MISSBIRD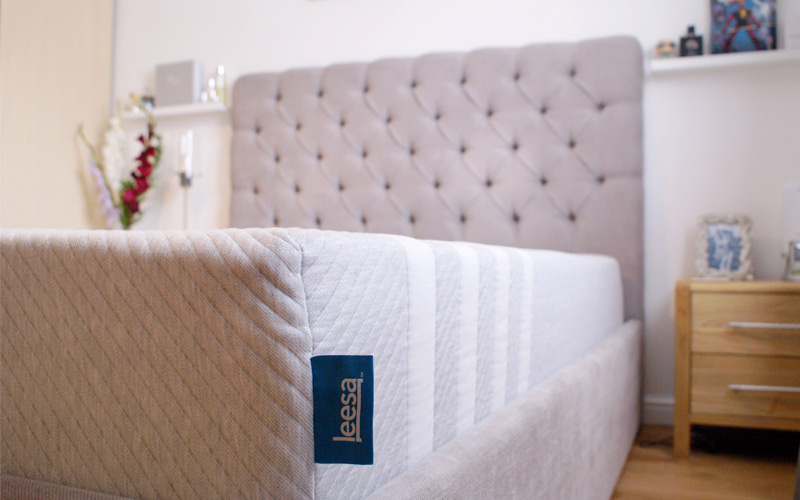 Do you struggle to sleep or do you have a special night time routine to help aid sleep? Tweet me @xxmissbirdyxx and share your sleep hacks!