Choosing our wedding venue was by far the easiest decision of the whole wedding process. Ever since Mr M and I had got together his whole family and friends kept mentioning this 'Treehouse'. The big kid in me was super intrigued (especially upon finding out it had rope bridges to bounce on)! Even before we were engaged I'd had my heart set on seeing it as a potential wedding venue. During the summer before we moved into our house we saw the Treehouse on an episode of "Don't Tell the Bride" (don't judge me!) and it looked amazing and I lusted even more to visit it. After Mr M had proposed we decided to take a look.
We arrived on a cold cloudy day in March and had a show around. It was just magical. The wedding co-ordinators are so helpful and friendly (not pushy!) and walked us through all the different options and showed us around. The big wooden chairs, woven willow branches dancing with fairylights and the rope bridges, it was just quirky enough for us!
The venue is unlike any other wedding venue, we both wanted something a little bit different and out of the ordinary and the Treehouse ticked all of the boxes. Enormous and beautifully crafted the Treehouse is built from sustainably sourced Canadian ceder, Scandinavian redwood and English and Scots pine it's well established high in the treetops of mature lime trees. With walkways in the sky, wobbly bridges for the brave and an enchanting aura there's something for everyone! We left not wanting to see any other venue and booked that week. It was the easiest decision ever and we were super super excited to be holding our day here. We booked around 14 months prior to the wedding (I'm a bit overly organised..!) After booking we were invited for our menu tasting around a year in advance, we chose to have it exactly a year before our wedding date which also fell on my 25th birthday. Scouring through the menu we chose 3 starters, 3 mains and 3 desserts to offer our guests and couldn't wait to try them out.
Arriving at the Treehouse a year before the day we would get married was so exciting; we got a real sense of what it would look like on our wedding day. When we had visited in the March, the trees barely had leaves on and it was a bit grey, arriving in the July it was like a completely different venue, the Treehouse was enveloped in the tree branches and the leaves all green it had been brought to life and was enchanting.
Our tasting menu
---
[columns size="1/3″ last="false"]
Starters
Cream of leek & potato soup served with bread and butter
Chicken liver p

âté

with red onion marmalade, toasted brioche, mixed leaves, and balsamic reduction
Swallow's of Seahouses smoked salmon, celeriac remoulade, boiled quails eggs, and grain mustard dressing[/columns]
[columns size="1/3″ last="false"]
Mains
Oven roasted sirloin of locally sourced beef, mash potato, roast potatoes, Yorkshire pudding and red wine jus
Supreme of chicken served with potato gratin, mushroom and tarragon sauce
Roasted rump of lamb, potato gratin, carrot puree, rosemary and red wine jus
[/columns]
[columns size="1/3″ last="true"]
Desserts
Sticky toffee pudding, butterscotch sauce and vanilla ice cream
Classic vanilla creme brûlée served with shortbread
Dark chocolate orange tart served with chocolate sauce and whipped cream
[/columns]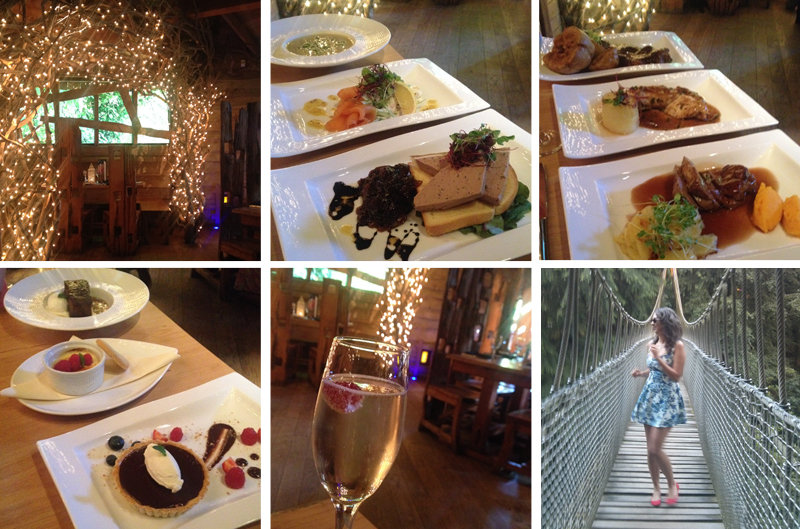 When we were served full size portions of each dish we were absolutely gobsmacked and didn't know how we were even going to tackle 1.5 3-course meals each, but we managed… just! The meal was just incredible. All of the food is locally-sourced and the setting is beautiful. All of the furniture is hand made, there's a roaring log fire in the centre of the room,  and there are trees growing through the floor!  Handcrafted furniture and dividers are created from fallen branches and are entwined with fairy lights. It's probably the best meal experience I've ever had.
After dinner we waddled outside and had a jump around on the rope bridges! I was so excited about these and knew our guests would love them at the wedding.
Neither of us could wait to return a year later to become Mr & Mrs M.
I would wholeheartedly recommend The Treehouse and all it has to offer. If you're visiting Alnwick Castle (Harry Potter 1 & 2 were filmed here!) then it's a definite must, to stop for some afternoon tea or a spot of dinner afterwards.
Have you experienced The Alnwick Treehouse?
Tweet me @xxmissbirdyxx #TreehouseWedding