There's nothing I love more than a full on luxury experience and attention to detail. I was lucky enough to visit Boringdon Hall and Gaia Spa with two work colleagues for an immersive, experiential spa break. I had heard and read lots of good things about Boringdon Hall but wasn't quite sure what to expect. Located in Plympton in Plymouth the location is a little bizarre, one minute you're driving through a little village and then you ascend a hill along a driveway to the main gates. You see Boringdon Hall peeking from behind a large tree. Once you get out of the car you realise the village you were just in feels like a million miles away – this is well and truly a small patch of heaven.
History Lesson
Boringdon Hall was mentioned in the Domesday book in 1086 AD which William the Conqueror had commissioned to document the land, owners, holdings and livestock. In 1559 after the dissolution of monasteries by Henry VIII it became crown property. Henry granted Boringdon Hall to his Courtier who then sold it to Henry Grey the father of Lady Jane Grey who became Queen for 10 days until she was beheaded. Boringdon was then sold on and later inherited by John Parker in 1587. During this time work on the manor was completed and he gave a great banquet to his dear friend Sir Francis Drake. The great hall today is much like it would have been when Sir Francis Drake dined there apart from the mantle piece bearing the coat of arms of the Parkers' which bears the date 1640. Now owned by the Nettleton Collection of hotels it's a superb example of a Grade One Tudor Manor House.
Gaia Spa
Gaia Spa is a new addition to Boringdon Hall, it's only been open since August 1st 2016 has already been awarded the Best Spa Hotel in the Ultimate 100 British Hotels by the Sunday Times. After a show around around both Boringdon Hall and Gaia spa we dropped our bags off in our rooms and headed straight back to the spa.
Every little detail has been thought about and I was properly impressed. In our lockers we found a robe, a towel and a pair of Gaia Spa branded flip flops, the changing rooms has hair and make up stations equipped with GHD hairdyers and straighteners, ESPA face cleanser and cotton wool pads, shower caps and tissues. We walked into the spa and found ourselves some loungers then headed for the heated infinity pool. I think this was genuinely the most relaxed I have been in a long time.
Next up was the hydrotherapy pool which is like a big hot tub with a door that leads to an outside swim through. It was dark and raining outside but being sat in the 37° C pool this didn't matter. I felt like a princess and this was my playground. The 5 different heat experiences were amazing. My favourite is the crystal salt steam room which is around 48° C – 50° C with around 100% humidity. I couldn't stay in for too long but it made my skin so soft. It was soon time to head off for dinner but I couldn't wait to return the next day for our treatment and more spa time.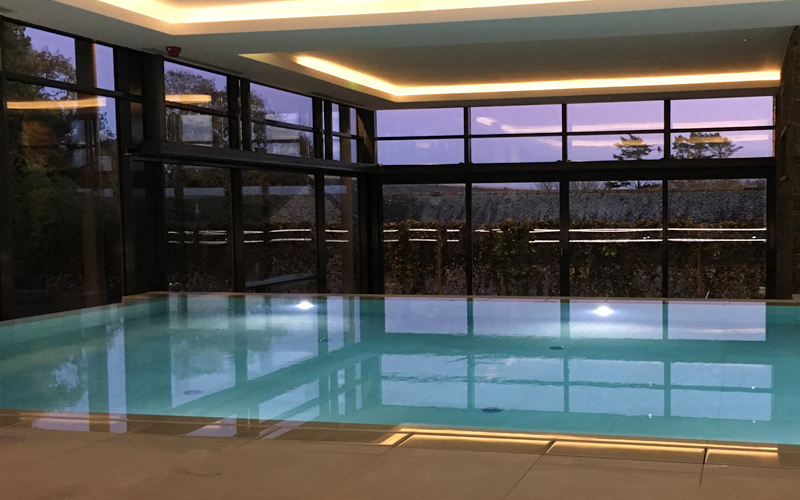 Fine dining at it's very best
Dinner was reserved for 7:30pm with canapés and drinks being served at 7:15pm in The Great Hall. We sat down on the comfy sofas and we were brought roasted almonds, olives and a four cheese sablé, which was a delicate, crumbly biscuit packed with goat's cheese, Parmesan, Pecorino and Cheddar flavours, it was mouthwateringly good. The waiter recommended an elderflower liqueur cocktail which we all partook in. It was un.real. (I could quite imagine sipping easily away at those all evening and then waking up with a very bad hangover..!) At 7:30pm we were shown to our table in The Gallery Restaurant which overlooks The Great Hall. I had high expectations for dinner. Head Chef Scott Paton produces beautiful looking food that I've always lusted over and I was hoping it was going to taste as good as it looked.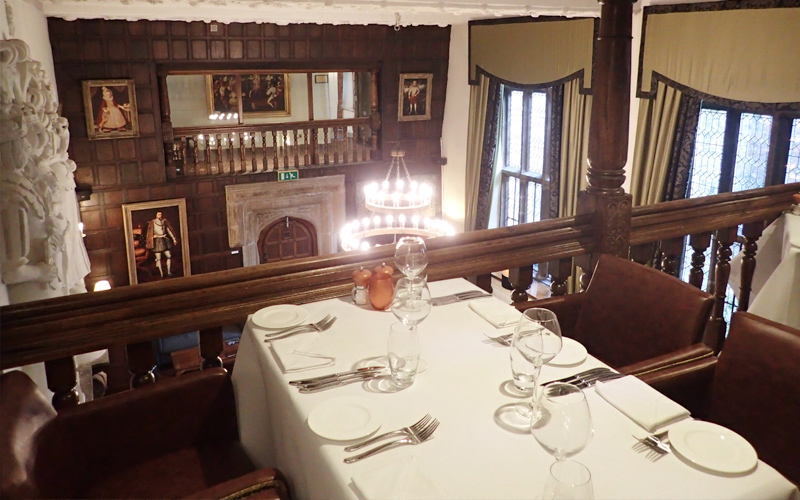 Food glorious food!
For starters I chose a Vulscombe Goats Cheese Terrine with Pickled Beetroots Elderflower and Gingerbread coming in at a price of £8 which was the cheapest starter they offered. For main a plate of Aged Fallow Deer, Winter Spiced Beetroot, Juniper and Anise priced at £26 the most expensive main on the menu and then finally for dessert I chose a Raspberry Mousse Pistachio Cream and Raspberry Sorbet, which the maître d'hôtel described as 'the happy plate' he wasn't wrong. This was priced at £9 which was the same for all of the desserts. We were served a beautiful amuse bouche which consisted of layered pear jelly and Roquefort panna cotta topped with walnut pieces and chives. I usually wouldn't eat Roquefort cheese but this was a beautiful pairing that worked so well.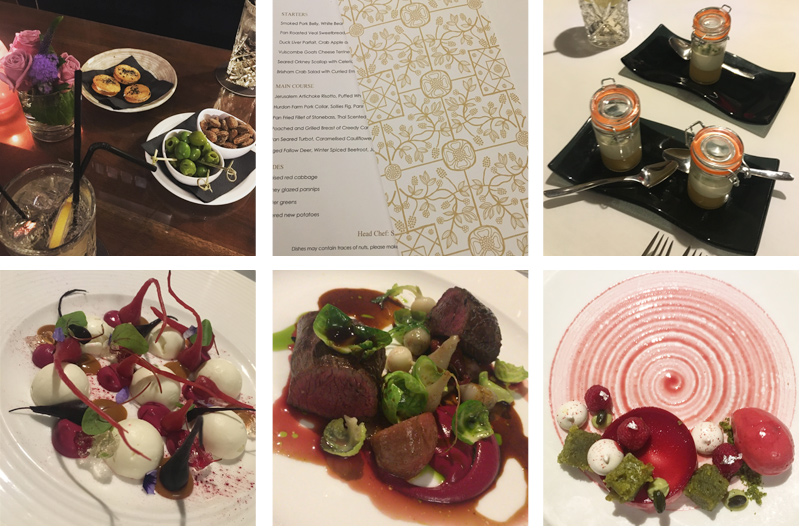 Food for thought
£43 for 3 courses – this to me is an absolute bargain. This meal was probably one of *the* best meals I've ever had and the service from the waiting team was in a class by itself. With each ingredient showcased, the colours so bright and vivid and the creative presentation, Scott Paton and Boringdon Hall are well on their way to getting a Michelin star and it's just the most heavenly place on earth. If you love good food in a relaxed non stuffy atmosphere then Boringdon Hall should be the top of your next dining destinations list.
Turn down service
We headed to bed with a satisfied belly full and smiles on our faces. As we got into our rooms we were most surprised to have had a turn down service. This is given to every guest free of charge without requesting it. It's such a nice touch after a long day. The TV was on set to a radio channel playing relaxing music, bathrobes laid on the bed and slippers at the foot and a tray with some homemade lavender fudge, a pot of Gaia Spa sleep balm and some information cards. I fell asleep swiftly, excited for the following day.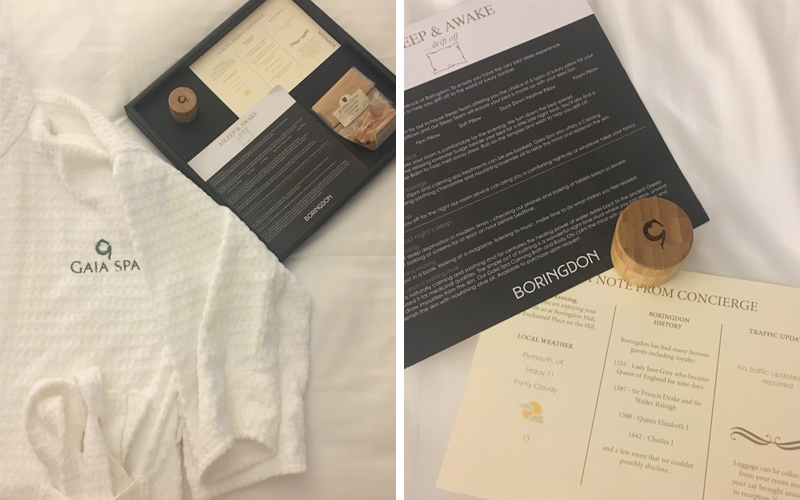 A Gaia Spa Treatment
I'm not one for shying away from relaxing treatments. The following day we were treated to a Gaia Hot Stone Massage – Back, Neck & Shoulder. This costs £60 for 40 minutes. We were taken to the 'Spatisserie' to fill in the usual forms before any treatment and then we were ushered to our treatment rooms by our therapists. I can't praise the service and attention to detail enough.
When you have a treatment at Gaia you are treated to a foot scrub ritual. This was amazing. I'm not usually one for letting people touch my feet but they felt heavenly afterwards. The therapist then asked me to do a scent test to choose which scent I preferred, I'm guessing this is much like the Neom scent test where your body is more attracted to the one it needs most. My choice was the calming oil which contains essential oils of chamomile, clary sage & orange blossom. I had never had a hot stone massage before so wasn't too sure what to expect, I laid face down on the bed and the therapist placed a bowl of oil with water on the ground for me to inhale during my treatment. She then set to work on my back, neck and shoulders. I carry a lot of stress in my right shoulder and she did an AMAZING job to relieve this with the hot stones.
Once the treatment was over we were shown to the relaxation room which is so indulgent and cosy. A line of beds with cushions and pillows, each with a dividing curtain and table, soft sound of music playing and plentiful of water and juice to drink. We retired here for a while, contemplating then decided to venture back to the spa for some swimming and sauna. I even gave the ice bucket a go which was pretty refreshing!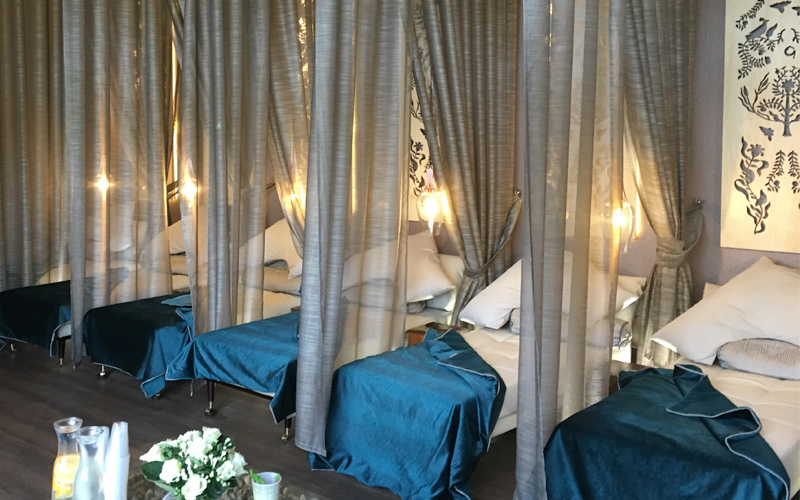 Afternoon tea
The final part of our adventure was afternoon tea in The Great Hall. I love a good afternoon tea and after dinner I had high expectations from this. Boringdon Hall do a themed afternoon tea each month alongside their classic afternoon tea. This is such a great idea for mixing up for people who visit regularly. We were served the classic afternoon tea and I opted to have it accompanied with my favourite loose leaf tea – Darjeeling (also known as The Champagne of Tea).
We were served ham and mustard, cucumber cream cheese & chive and smoked salmon and cream cheese sandwiches, a plain and fruit scone with jam and clotted cream followed by a selection of cakes which included a fruit tartlet, warm bakewell tart, gateaux opera and a carrot cake.
I have to admit I was left a little deflated by the food. Don't get me wrong, it was good, but after everything else, I just felt like it was a bit mediocre and lacking that bit of pizazz that is seen and found everywhere in Boringdon Hall. The carrot cake was definitely the highlight of the experience for me – oh and the darjeeling!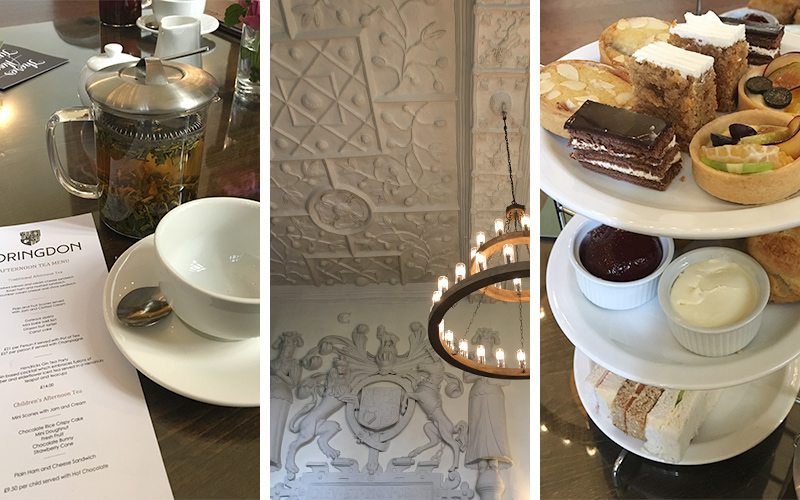 Final musings
Boringdon Hall is one of the best hotels I've stayed in (and I'm pretty well travelled!) the staff, attention to detail and experience were big highlights of the stay. It oozes sumptuousness and luxury, you will find yourself enchanted and completely relaxed wondering why you can't stay there forever. Boringdon Hall has recently been awarded its well deserved 5th star from the AA and will no doubt keep pushing forward and excelling and astounding guests for many years to come. Thank you Boringdon Hall and Gaia Spa for such an amazing stay. See you again soon!