Bloom & Wild, Flowers by post
There is nothing quite like beautiful blooms to cheer up a dull corner in the house and brighten your mood. I've been obsessed with flowers for as long as I can remember and love nothing more than receiving or giving a beautiful bunch.
I try to buy flowers as often as possible but finding beautiful, long-lasting flowers that for reasonable price is nigh on impossible, with supermarket flowers lasting a couple of days and local florists charging extortionate prices, I was hoping Bloom & Wild would break the mould.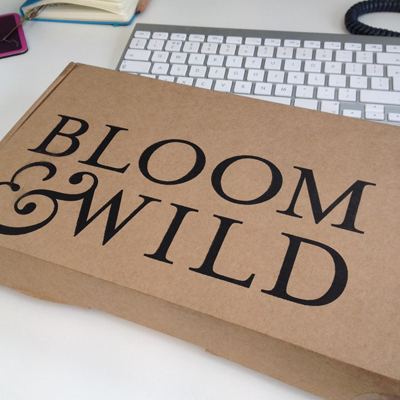 I signed up to Bloom & Wild when I saw that they were running a discount code on Facebook. The website is clean, clear and easy to navigate, the photographs are beautiful and give you an idea of how you might like to arrange your bunch. I eagerly placed my order and waited for them to be delivered. Not only did I order for myself, I wanted to try out their gift service so in the time I waited for my delivery I also had some delivered to my Great Aunt who had been in hospital with a broken hip. I've used plenty of online florist deliveries in the past but none had stood out, though the flowers delivered have been nice and on time, there was something missing from the ordering process that didn't have the wow factor and you can also never be certain they are going to receive something really delightful.
Delivery Day!
My first bunch of Bloom and Wild flowers were delivered to me at work, so I wasn't sure if they fitted through our letterbox. I had a quick peek inside the box and squealed with excitement, seeing the blooms all neatly cuddled up in the box, I couldn't wait to get them home and see if they were going to live up to my expectations. I had ordered the Emma bouquet was described on the website as:
"…exuberant, irrepressible and bursting with life. It comprises pink oriental lilies, pink and white lisianthus and pale pink alstroemeria, statice, stallion and pitto."
[columns size="1/2″ last="false"]After a long day at work I returned home excitedly and sat down with the box ready to open it. Admittedly I'm slightly partial to a beautiful ampersand, the attention to detail and application of this Baskerville beaut throughout the opening of the box made me smile. The subtle use and application of the ampersand is beautiful. The delivery note on the outside of the box doubles up as a card where any personalised message will appear. It also gives a description and details about the inspiration behind the bouquet along with arranging suggestions.[/columns]
[columns size="1/2″ last="true"]Upon opening the box I was greeted with a beautiful gold ribbon woven around a cellophane wrap that encased all of the individually wrapped stems that were each housed in a protective net. I unraveled the gold ribbon and began unwrapping each of the blooms. I was surprised how well they looked and there was no damage to the petals or leaves. They didn't take long to regain their shape either.[/columns]
I love arranging flowers. There's nothing quite like it which means I'm the type of person that if I ever receive a pre-arranged bouquet I will deconstruct it and re-assemble to my liking so I *love* the fact I can arrange my letterbox blooms to how I want. For those however who prefer pre-arranged bouquets, Bloom and Wild do offer a hand tied Classic and Signature option ready to place into a vase upon delivery.
After about 15 minutes of arranging my flowers into my vase I stood back and was super impressed with the amount of stems there were and how beautiful they looked. Binki began to sniff and explore around the vase and was suitably impressed by the blooms and meowed with approval.  Since my first letterbox bloom box I have ordered over 10 more bunches for myself and gifts. I have been over the moon with every bunch and the people who I send them to always gush over how beautiful they are!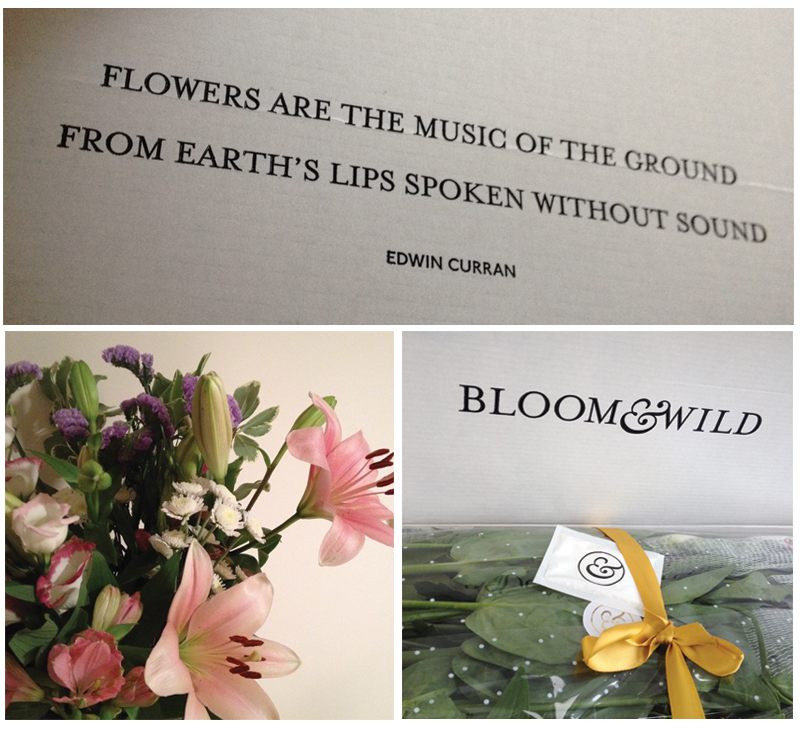 Verdict!
No longer will I be ordering from the first florist that pops up on Google when I want to order or gift flowers – Bloom & Wild have that personal touch that the majority lack, and the quality and freshness of the flowers is far superior to its rivals. I cannot recommend Bloom and Wild enough.
I've been so impressed with their service and the comments on the flowers and feedback from the my relatives who has received them as gifts, that I just had to share this blog post about them. Since drafting this post they have newly launched an iPhone app which just like their website is easy to use and you order flowers hassle free on the go which is handy if you send a lot of flowers.